We are proud to present the 2016 iHack. iHack is a full-day security and hacking event that takes place 6 month before Hackfest. This year's iHack includes training and our CTF.
CTF Results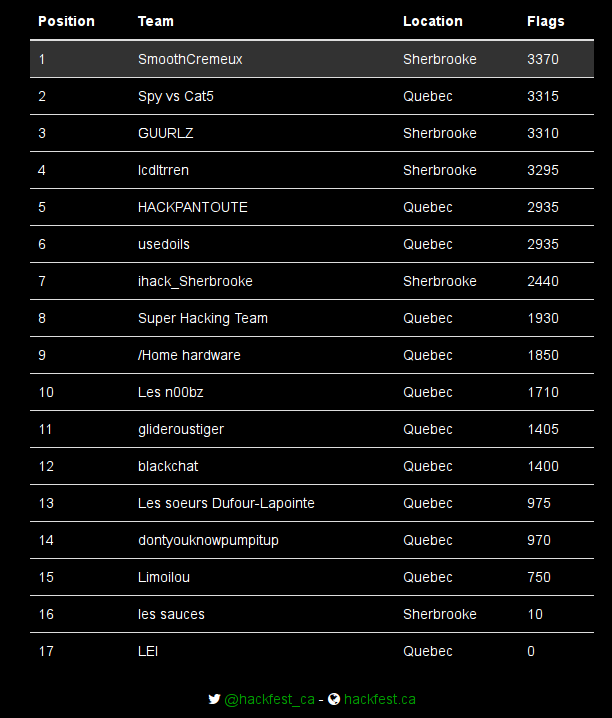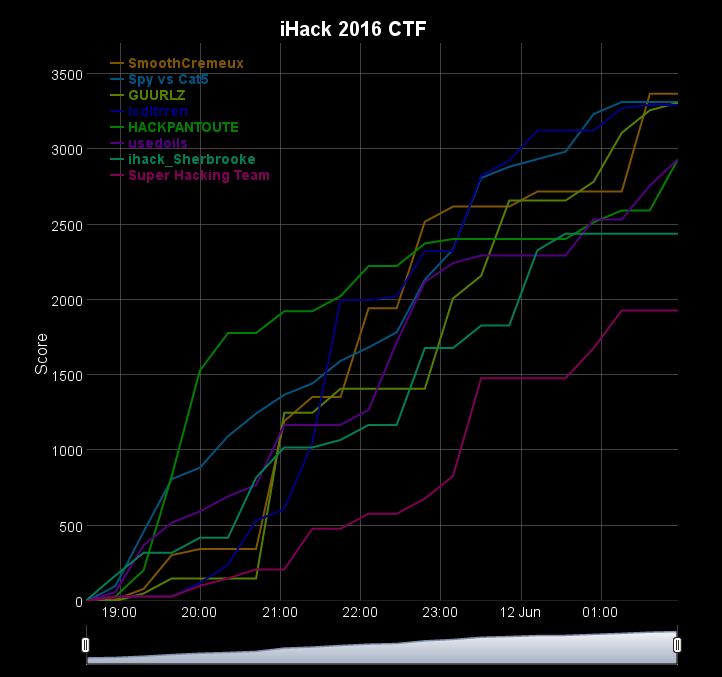 Activities
###June 9
###June 10
###June 11
13h00 – 17h00: Conference (free)
17h00 – 18h30: Dinner
18h30 – 2h00: Capture The Flag (free)
Trainings
We are happy to offer two security training workshops for you to build an excellent foundation in theory and technique in IT security. Each of these workshops are offered at a price of $250 or $450 for two workshops.
Registration and details
Conference
In this edition of iHack we offer you tree conference on differente security subject
Schedule:
13h00 – 14h00: Data Exfiltration
14h00 – 15h30: blue team
15h30 – 17h00: Relever les empreintes d'une application Web
17h00 – 18h30: souper time
###13h00: Data Exfiltration
Description
À toutes les semaines on voit dans les nouvelles des entreprises ayant été piratées via une attaque d'ingénierie sociale, un malware, ou un injection SQL sur leur site Web, mais rarement on décrit ou discute des techniques utilisées que les pirates ont utilisées pour voler et extraire les données de ladite entreprise.
Pour mieux sécuriser et surtout détecter les extractions de données qu'effectuent vos potentiels attaquants, il est important de comprendre comment ils s'y prennent que ce soit un tunnel chiffré, "hidden in plain sight" ou toutes autres méthodes. En plus des méthodes d'exfiltration nous survolerons les possibilités qui s'offrent à nous pour détecter ces exfiltrations de données.
Biography
Patrick is co-founder of Hackfest.ca and is involved in IT security for over 15 years. He works as a senior consultant for security SecurityCompass.com and specializes in application security and offensive. Patrick has a Bachelor and a college diploma in IT and more, he has always been active in the community and in the security event.
###14h00: blue team
DESCRIPTION TBD
Biography
Security specialist at Sherweb and graduate of Laval University. Cédrick is part of Hackfest crew since 2011. He is the manager of the hackfest CTF and leads his amazing team to provide you with a non-standard CTF that you won't forget!
###15h30: Relever les empreintes d'une application Web
Description:
Les applications Web ont tendances à divulguer bien malgré elles beaucoup d'informations au sujet des technologies qu'elles utilisent ainsi que sur leur fonctionnement interne. Faire un bon relever de ces informations est primordial pour effectuer une évaluation adéquate de la sécurité d'une application Web. La connaissance des technologies et versions utilisées peut permettre l'exploitation d'une vulnérabilité connue. Dans cette présentation, une revue de techniques passives et actives, d'identification de l'empreinte d'une application Web sera effectuée.
Biographie:
François Lajeunesse-Robert, est un consultant en sécurité de l'information se spécialisant en sécurité applicative. C'est en tant que développeur et passionné de mathématiques qu'il a été amené à s'intéresser à la sécurité applicative dans le cadre de sa maîtrise en informatique. Ses travaux de maîtrise ayant été présentés dans le cadre de deux conférences internationales et réutilisés par un organisme gouvernemental fédéral.Dans le cadre de son travail, il a longtemps réalisé des revues de code de sécurité et des tests de pénétration applicatifs. Il se consacre maintenant davantage à l'intégration de la sécurité dans le cycle de développement des organisations. Il est aussi impliqué depuis plusieurs années dans la communauté du Hackfest dont, entre autres, en tant que confériencier aux Hackerspaces sur des sujets combinant la sécurité informatique et les mathématiques.
##CTF
Capture the flag will take place on Saturday, June 11 at 6PM and will end on Sunday, June 12 at 2AM. Teams must consist of four people. We will create teams for individuals without a team and for teams needing extra players. The competition is intended to be accessible to all in a relaxed social environment. Competitors can BYOB to this event.
###Horaire:
18h30 – 2h00: Capture the flag
You are part of a criminal organisation of 4 people. Your goal : Profit and notoriety. A lot of challenge await for you :
Web
Forensic
Wifi
Exploit
Iptables bypass
Même de l'électronique !
You only have to solve these challenges to win :)
You will need to bring:
A network switch
Network cables (25 feet+)
Electrical cables (powerbar, UPS, etc)
Your best smile
###Location
Local P-457, Sainte-Foy Cegep, Québec