Hackfest CTF
Index:
Résultats pendant le Hackfest
1st position
: Amish Security, 3
NoStarchPress
books + 1
Crack The Perimeter (CTP) de Offsensive Security
2nd position
: UQAM, 3
NoStarchPress
books + 1
PWB (Pentesting With BackTrack) de Offsensive Security
3rd position
: Zozo_Team, 4
NoStarchPress
books
Last position
: Nimpo, Free Tickets for 2013
On site results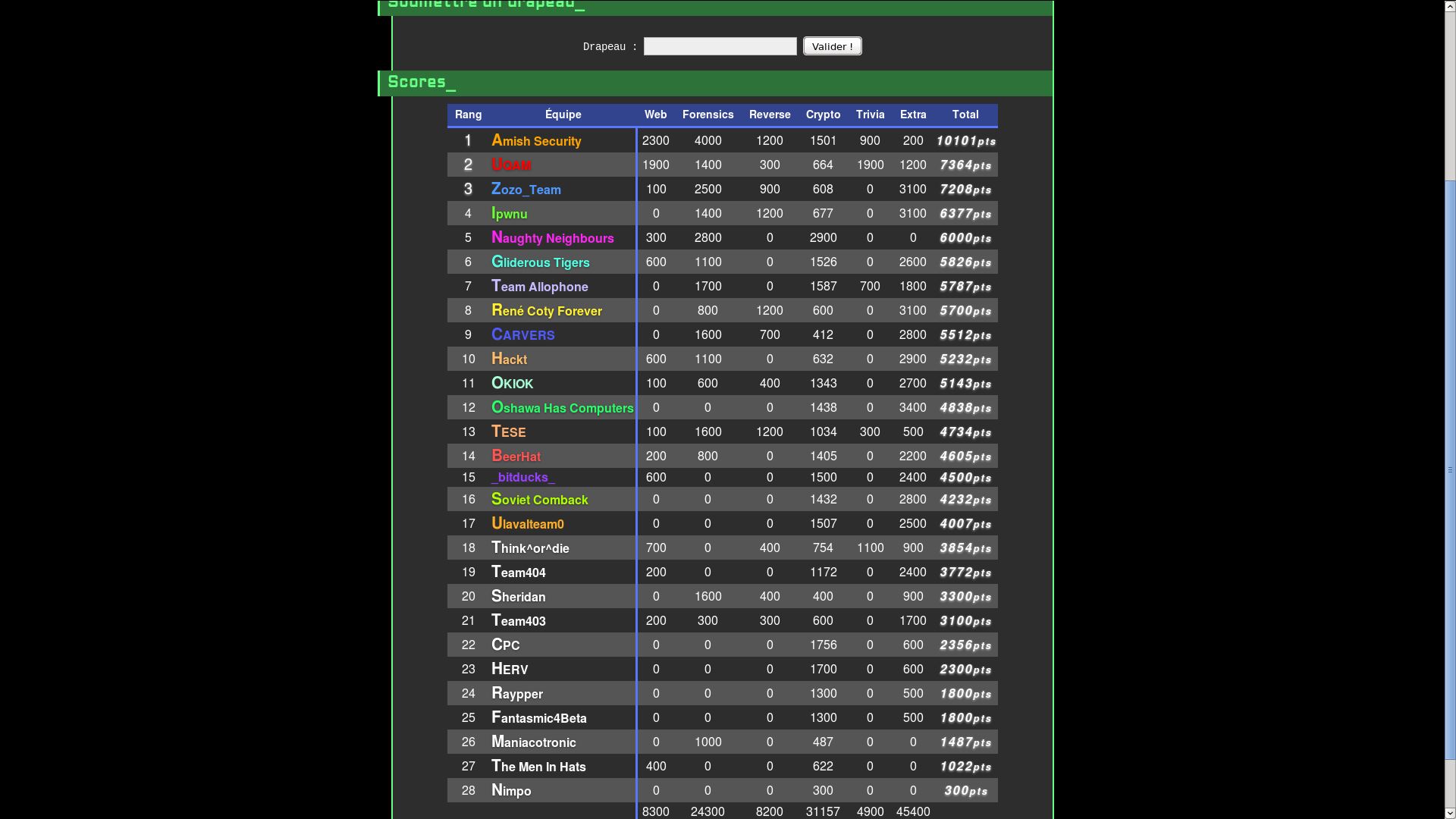 VPN for participant out of the province of Quebec
For the first time, hackfest crew will make challenges accessible by VPN in order to make them accessible for people who can't move in.

VPN Kit: The OpenVPN package will be sent by email to registered players at 7:00 PM

Price to play: Free (you can only access the VPN from outside Quebec)

Price to win: Remote players can't win prices
No guarantee
: As a first edition we can't guaranteed the quality and speed of the VPN.
CTFtime Ranking
Challenges
Saturday's event will be the classic CTF format. The enphasis is on the way teams are versatile and how they use their skills. Like in the friday night, points are gained by exploiting vulnerabilities. Challenges generally have the following caracteristics:
Pretty easy to understand
Difficulty ranges from easy to hard
Variety to please everyone


Here are the challenges of this year. (Note that they're subject to change):
Web
Your goal is to find and exploit vulnerabilities exposed by various websites. Your analytical skills will be solicited more than ever in this edition. You'll need to read between the lines of code.
The challenges of the past years could serve as warm-up.
http://www.hackfest.ca/hacking-games/anciens-jeux
Phony app
Android, Windows Phone, iOS... Is there such a thing as mobile security?
Exploits
NMAP is a pretty good tool, but unfortunately it won't get you root on the box.
Crypto
How are you supposed to communicate with the real world... in plain text? Welcome to 2012.
Crackme
Bring some computation power to crack those hashes you will find on your way to salvation. This track will be integrated into others.
Trivia
IRC quizz-style trivia led by our famous host, ChuckNorris. Questions will be related to anything ITsec, hacking, scene, history, etc. They will range from general knowledge to specific technical questions
Lock Picking (On site only)

All details here: http://www.hackfest.ca/en/hacking-games/lock-picking-pro-clef
Watchguard Challenge
Watchguard challenges you to bypass their layer-7 firewall by attacking a vulnerable server remotely. The first team who find a flag will win a XTM 2 series box.
Registration: You must register by e-mail before 6:00 PM, eastern time, to have your team on the scoreboard
Logistic
Saturday's event will accommodate 30 teams of 4 members, totaling 120 participants from across Canada and USA.

What you must bring:
A 50' RJ45 cable to reach the core switch
A switch for the whole team
A computer (Desktop or Laptop) for each player


What you can bring:
Lock Picking Tools
A UPS
A smile in the face


What you can't bring:
---
2010 & 2011 games
Here is the description of this event from the last Hackfest